Version 1.0 is here!
Product Updates

·

Jul 31, 2023
At long last, Insurerity has bid farewell to its beta stage! With this latest update, we proudly unveil the most extensive overhaul our brokerage platform has ever witnessed, brimming with an array of thrilling and robust new features!
Joshua Akangah
Lead, Web Platforms
Following a successful beta platform launch around August 2022, our team promptly withdrew to meticulously gather and analyze data and feedback from our clients. Armed with invaluable insights, we embarked on developing the next significant evolution of our brokerage platform. Today, we are thrilled to announce that Insurerity has officially emerged from its beta phase, and we proudly present the stable version 1.2x to all our clients. With a renewed vigor, we embarked on a journey to redefine and revolutionize the landscape of insurance brokerage software, pushing the boundaries of its appearance and functionality. We will begin rolling out this new version to our clients from 31st of July, 2023.
In this blog post, we're thrilled to unveil the latest version of our app, packed with an array of exciting new features. As we delve into these enhancements, we'll explore how they have been thoughtfully designed to elevate our clients' overall business process, ensuring a seamless and efficient experience for everyone involved. Let's dive in and discover the transformative power of our new app version!
All new document management
Our new document management feature is a game-changer for insurance brokers and their clients. With this addition, users can now effortlessly organize, store, and retrieve critical documents within the app, streamlining their workflow and reducing the hassle of manual document handling. Whether it's policy documents, contracts, or claim records, everything is securely stored and easily accessible in one centralized location. By eliminating the need for external document management systems, our software becomes an all-in-one solution, boosting efficiency and saving valuable time for our clients. Refer to our plans for more information about upload limits for different tiers.
Permissions & Role Management
We understand that not all users require access to the same information and functionalities within the app. That's why we've introduced an advanced permissions handling system. With this feature, administrators can define granular access levels for different user roles, ensuring that sensitive data remains secure and only authorized personnel can perform certain actions. This heightened control not only enhances data security but also fosters a sense of trust and confidence among our clients and their teams. The ability to customize access levels ensures that each user has precisely the tools they need to perform their tasks efficiently, contributing to a more organized and productive work environment.
Advanced Analytics
Data-driven decision-making is the key to success in the insurance brokerage industry, and our advanced analytics feature empowers our clients to harness the power of their data. With real-time, detailed insights and reports, they can gain a deep understanding of market trends, customer preferences, and business performance. Armed with this invaluable information, brokers can optimize their strategies, identify new opportunities, and provide tailored insurance solutions to their clients. The seamless integration of analytics within our app enhances its value, turning it into a potent tool that guides intelligent decision-making and drives business growth.
Overhauled UI and UX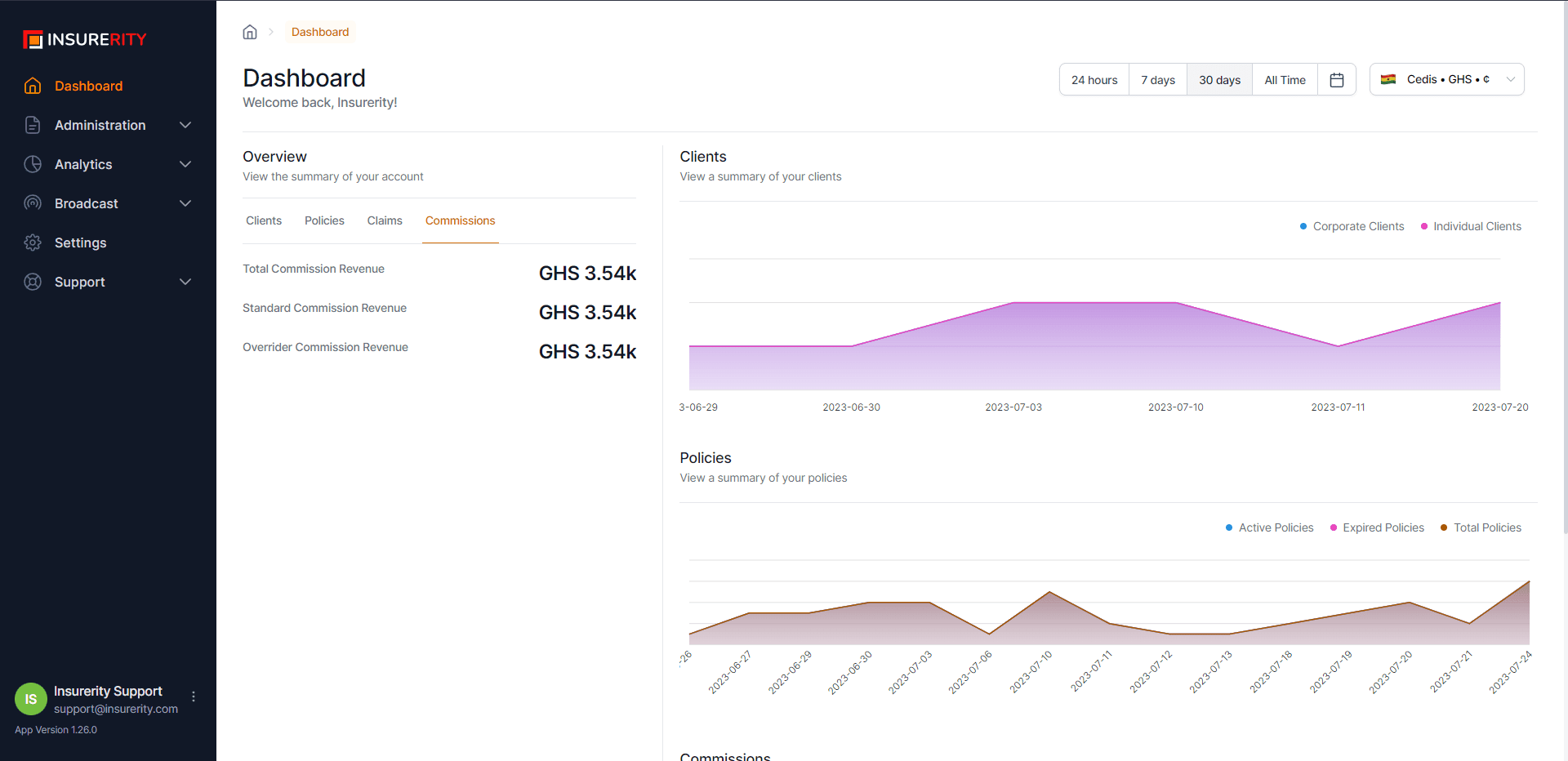 User experience lies at the heart of our software, and with the overhauled UI and UX, we've taken it to the next level. Our designers have meticulously crafted a visually appealing, intuitive interface that ensures a smooth and enjoyable journey for every user. By simplifying navigation and optimizing workflows, we've minimized the learning curve for both seasoned professionals and newcomers. The result is a more engaging and efficient platform that encourages users to make the most of its capabilities. Our commitment to delivering an outstanding user experience sets our software apart from the competition and leaves a lasting impression on our clients.
Enhanced Speed and Responsiveness
In today's fast-paced digital landscape, prioritizing speed and performance is crucial, and we have invested significant effort in optimizing our app to provide an unparalleled user experience. Our dedication to enhancing performance has resulted in an app that operates at lightning speed, delivering remarkable reductions in load times and response intervals. Whether it's conducting client information searches or processing complex insurance requests, our users can now enjoy a seamlessly efficient experience like never before.
To achieve this exceptional level of performance, we meticulously conducted internal benchmarking and performance testing. Rigorous testing allowed us to measure and compare the load times and response rates of the old and new versions of our software under various scenarios. Through these tests, we confirmed that the new version outperformed the old one by a significant margin, surpassing our initial goal of achieving at least 3 to 5 times faster response times. By leveraging these benchmarking results, we were able to fine-tune our app, eliminating bottlenecks, optimizing code, and leveraging cutting-edge technologies to deliver an app that not only meets but exceeds the expectations of our clients.
This approach to internal benchmarking ensured that our software is thoroughly future-proofed, allowing it to handle the ever-increasing demands of a growing client base. As technology and user expectations continue to evolve, we are confident that our app will remain at the forefront of the insurance brokerage industry, providing a seamless and top-notch experience to our valued clients.
Conclusion
In conclusion, with great excitement and pride, we unveil the latest version of our app, representing a significant leap forward in insurance brokerage software. Throughout this journey, we have been driven by a singular mission: to redefine and revolutionize the way insurance brokers interact with technology and serve their clients.
Our commitment to enhancing speed and performance has been unwavering. By optimizing our app, we have achieved lightning-fast operations, substantially reducing load times and response intervals. Whether it's managing policies, searching for assets, filing claims, or exploring transactions, our users can now experience a seamless and efficient workflow that empowers them to excel in their roles.
As we reflect on this journey, we extend our heartfelt gratitude to our clients and partners for their invaluable feedback and unwavering support. Your insights and collaboration have been instrumental in shaping this groundbreaking release.
At Insurerity, innovation is at the core of our DNA. We will continue pushing boundaries, leveraging the latest technologies, and prioritizing user experience to stay ahead in the industry. With this latest version, we reaffirm our commitment to empowering insurance brokers to thrive and deliver exceptional service to their clients.
Embrace the future of insurance brokerage with us. Upgrade to the new version and experience the difference – where every second counts, and performance matters.
Together, we embark on a new era of efficiency, productivity, and success. The future of insurance brokerage starts here, with Insurerity – where possibilities know no bounds.
Thank you for joining us on this journey. The Insurerity Team
© Copyright 2023 Insurerity Digital Ltd. ("Insurerity") and the Insurerity logo are registered trademarks.
All product illustrations on this website may not be indicative of the actual product and are for illustrative purposes only.
Insurerity Digital Ltd. is registered and certified by the Data Protection Commission of Ghana (DPC) under the Data Protection Act, 2012 (Act 843).
Use of Insurerity Digital Ltd. products and services are subject to the Terms of Service and Privacy Policy.
Insuredem is an affiliate of Insurerity Digital Ltd. that provides white label B2C insurance technology solutions to insurance brokers, agents, and insurers.
Insurerity Digital Ltd. is not licensed to provide actual insurance brokerage, agency, or insurance services, and is not a licensed insurance organisation. Insurerity Digital Ltd. only provides technology and services to insurance brokers, agents, and insurers.
© Copyright 2023, Insurerity Digital
Proudly made in